Customer Kudos
"zZounds is a one of a kind place to shop for the best gear at the best prices. They back up what they sell. They are super accurate on their item descriptions, shipping, and their customer support is the best in the business."
December 23, 2022

zZounds Live: Boss Katana-50 MkII EX Combo and Artist MkII Head

As one of the most popular guitar amp series around,
Boss's Katana family
delivers versatility and pro sound at wallet-friendly prices. Boss adds to their Katana series once again with the Katana-50 MkII EX combo and Katana-Artist MkII head!
The Katana-50 MkII EX builds upon the original Katana-50, with additional footcontroller inputs for maximum versatility, as well as the ability to link up to another Katana for true stereo capabilities. The 100-watt Katana-Artist head offers players the freedom to play LOUD. Pair the head with the Katana 2x12" Waza cabinet, or experiment with various speaker cabs of your own. Don't forget to pick up the
GA-FC
and
GA-FC EX
footcontrollers to unlock the full capabilities of these models.
Curious about the the Katana-50 MkII EX and the Katana-Artist MkII head? Watch as Justin pushes these amps to their limit in this edition of zZounds Live!
Boss Katana-50 MkII EX Combo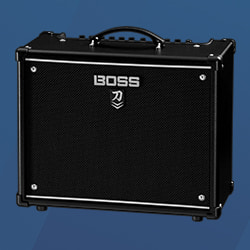 Bring pro sound anywhere you go with the Boss Katana-50 MkII EX combo. Expand your capabilities thanks to additional footswitch inputs to hook up an expression pedal, and use the Stereo Expand function to create true stereo sound from the premium Boss effects. Multiple power settings offer superb tone whether you're jamming in your bedroom or bringing the heat on stage.

Wattage: 50 watts, switchable to 25 & 0.5 watts
Speaker: 12" Boss Katana speaker
Five Amp Characters: Clean, Crunch, Lead, Brown, and Acoustic with variations per each
Five Independent Effects Sections: Booster, Mod, FX, Delay, and Reverb with variations per each
Easy Stereo Linking: Stereo Expand out to link with a second Katana MkII
Boss Tone Studio Software: Customize your sound with over 60 different BOSS effects, channel and global EQs, adjustable routing, and much more
Boss Katana-Artist MkII Head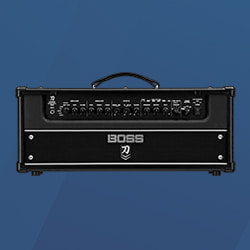 Add the power and versatility of Katana to any rig with the Artist MkII head! Juiced with 100 watts of output power, this amp is comfortable on any stage, and can be switched down to 50 and 0.5 watts for the perfect volume anywhere. Just in case you need something to take your leads over the top, this Katana also features a Solo Boost for crystal clear definition.

Wattage: 100 watts, switchable to 50 & 0.5 watts
Three Speaker Outputs: Two 16-ohm and one 8-ohm (8-ohm maximum load supported)
Five Amp Characters: Clean, Crunch, Lead, Brown, and Acoustic with variations per each
Five Independent Effects Sections: Booster, Mod, FX, Delay, and Reverb with variations per each
Solo Boost: Solo boost with onboard level control (dedicated delay and EQ can be applied to the Solo boost in BOSS Tone Studio)
Boss Tone Studio Software: Customize your sound with over 60 different BOSS effects, channel and global EQs, adjustable routing, and much more
Boss Katana 212 Waza Speaker Cabinet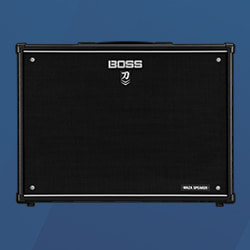 Complete your Katana stack with this 2x12" Waza speaker cab. Loaded with a pair of Waza speakers, this cab was designed to coax out the magical sounds of '60s style British stacks. While finely tuned to pair with the Artist MkII head, the 212 Waza cab can handle any amp up to 160 watts.

Speakers: Two 12" Boss Waza speakers
Power Handling: 160 watts
Impedance: 16 ohms
Creative configurations: Additional rubber feet for using the cab in a vertical configuration
Detachable Back Panel: Creates closed-back and open-back tones from one cab